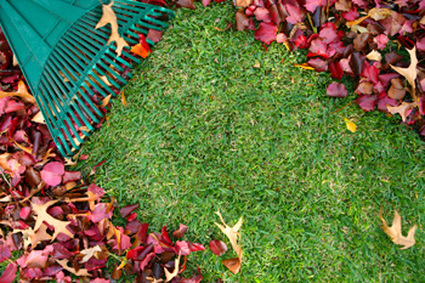 Seasonal Cleanup: Throughout the year there comes a need for yard clean-ups. Neighborhood Lawn Care employees are no strangers to raking leaves, pulling weeds, one time mowing jobs, setting new edges on lawns, pruning, and anything else that needs cleaned up in your yard. If your landscape is in need of a little sprucing up, you'll find that our service is just what you're looking for.

We do have a $400 minimum for one-time cleanups, So keep that in mind when calling.
---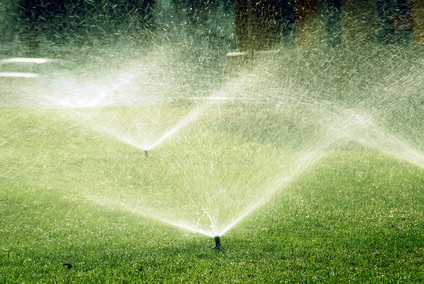 Irrigation System Repair:
Every now and again and sprinkler system needs to be repair. Cracked pipes, broken heads, or even just an adjustment. We can handle nearly all problems facing a sprinkler system.
Our rates for irrigation system repairs, upgrades or maintenance in Vancouver WA are as follows:
$150 Service Call. This covers the first hour of labor and mobilization time (materials are additional)

Sprinkler System Repair work / upgrades; Each Additional Hour: $90 per hour (plus materials).
After the first hour ($150), we bill by the quarter-hour at $90/hr ($22.50/Qtr Hr)
Our standard rates for all sprinkler system parts is list price plus 20%.
Payment is due on completion of services provided for given day. If we need to return for additional work, we will still collect for the first day at the end of that day.
---
---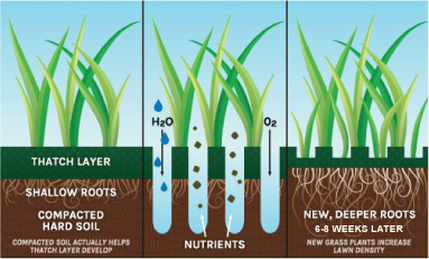 Aerating: Overtime, the lawn soil becomes compacted, and hard, so air, water and nutrients are not readily available to the lawn grass roots.
The grass gradually begins to starve, loosing its healthy appearance.

ProTurf Solutions, one of the region's local authorities on turf maintenance, recommend aerating twice per year for optimal results. If this isn't affordable, then a minimal aeration schedule would be to aerate once per year, but for a well maintained lawn, lawn aeration should be performed twice per year, once in the Spring and once in the Fall.

Aerating will cut cylindrical soil cores from the ground, loosening the soil and creating openings in the lawn surface.

The best time to aerate lawns is in the spring time. It can be done in the summer but the lawn must have ample irrigation in order to recover properly. Fall is the second best choice to aerate. We aerate several customers homes all on the same day. In this way, we can distribute the cost of renting the best equipment available among many customers. This saves you money. If you schedule your aerating job when we are doing many houses at the same time we can aerate for a very affordable price - $95 for most homes.

Air, water and nutrients will be readily available to be absorbed by the grass roots, the soil becomes softer making it easier for the grass roots to grow and spread, resulting in a healthier, more vibrant looking lawn.

Watering is much more efficient when the lawn has been aerated because aeration opens little holes in the lawn surface which allow water to go right into the soil instead of running off the lawn or staying on top and evaporating.

Please do not hesitate to contact us should you require further information.
---
---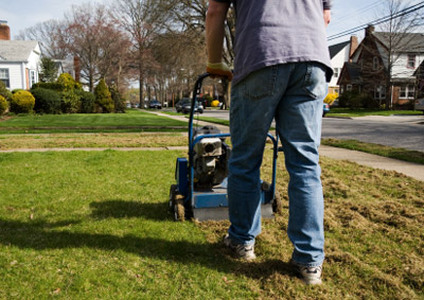 Dethatch: Dethatching a lawn is where a big tool called a Power Rake goes over your lawn and uses a rake like blade to pull up all of the old thatch. Then the landscaper rakes the thatch up and hauls it away. This is a much longer process and has more potential to do damage. Typically, we do not recommend dethatching unless you have a variety of grass that is prone to creating large amounts of thatch or a thick layer of moss. Instead, we recommend aerating.

The cost for dethatching varies, and starts at $145.

---
---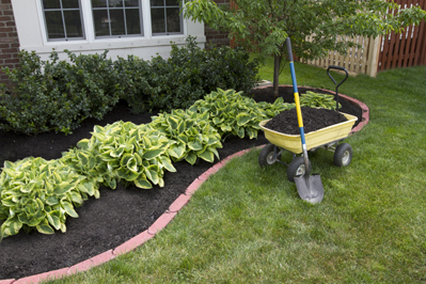 Mulch: Adding mulch or bark, or even river rock, to your garden space has instant results. Colors range from a black to a bright orange, almost red, color. An average home can be transformed in usually a couple or hours with a load of mulch and some wheelbarrows. Larger jobs might require more time or a blower truck. Prices range on the type of bark or mulch being installed, and can be anywhere from $75-$95 per cubic yard.

---
---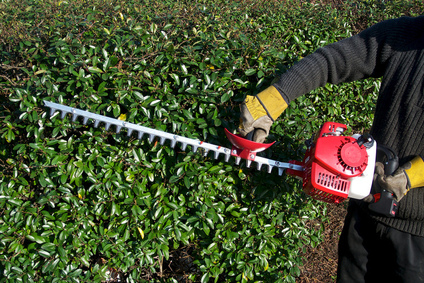 Pruning: We have skilled workers on staff who are experts in pruning. Whether you need an expensive Japanese Maple pruned just right, or just a general pruning job, Neighborhood Lawn Care is the place to call. We can handle almost any size shrubs and hedges. Costs are extremely variable on pruning, but we are competitive with our prices. While we can handle nearly any pruning job, we also know our limitations. There are times were we can't handle certain pruning needs. For example, we don't handle any large tree pruning, or pruning that is hazardous by nature, such as near power lines or that could possible damage a structure. If we can't handle a certain pruning job, we will refer to to a certified arborist who specialties in that kind of pruning.




---
---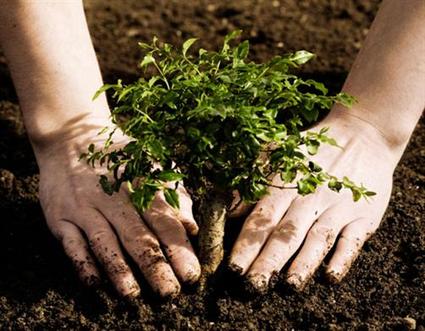 Planting: Some say working in the garden is relaxing and enjoyable, others find it tiring and stressful. Whether you just need a hand getting your garden planting started, or you want to add some much needed color around your home, we can help. From simple annuals to brighter up your landscape, to bulbs to fill in some areas year after year, or even getting a tree in the ground, we are here to lend a hand, a shovel, and our backs. Because lets face it, it's not called back breaking work for nothing. If you just want to sit back and have us to all the work, we can. You give us your budget, we pick out plants from local nurseries and get going. Or maybe you already have an idea of what you want planted and just need some extra muscle. Just let us know, we are happy to help.

---
---